Book Title:

Foundations for Assisting in Home Care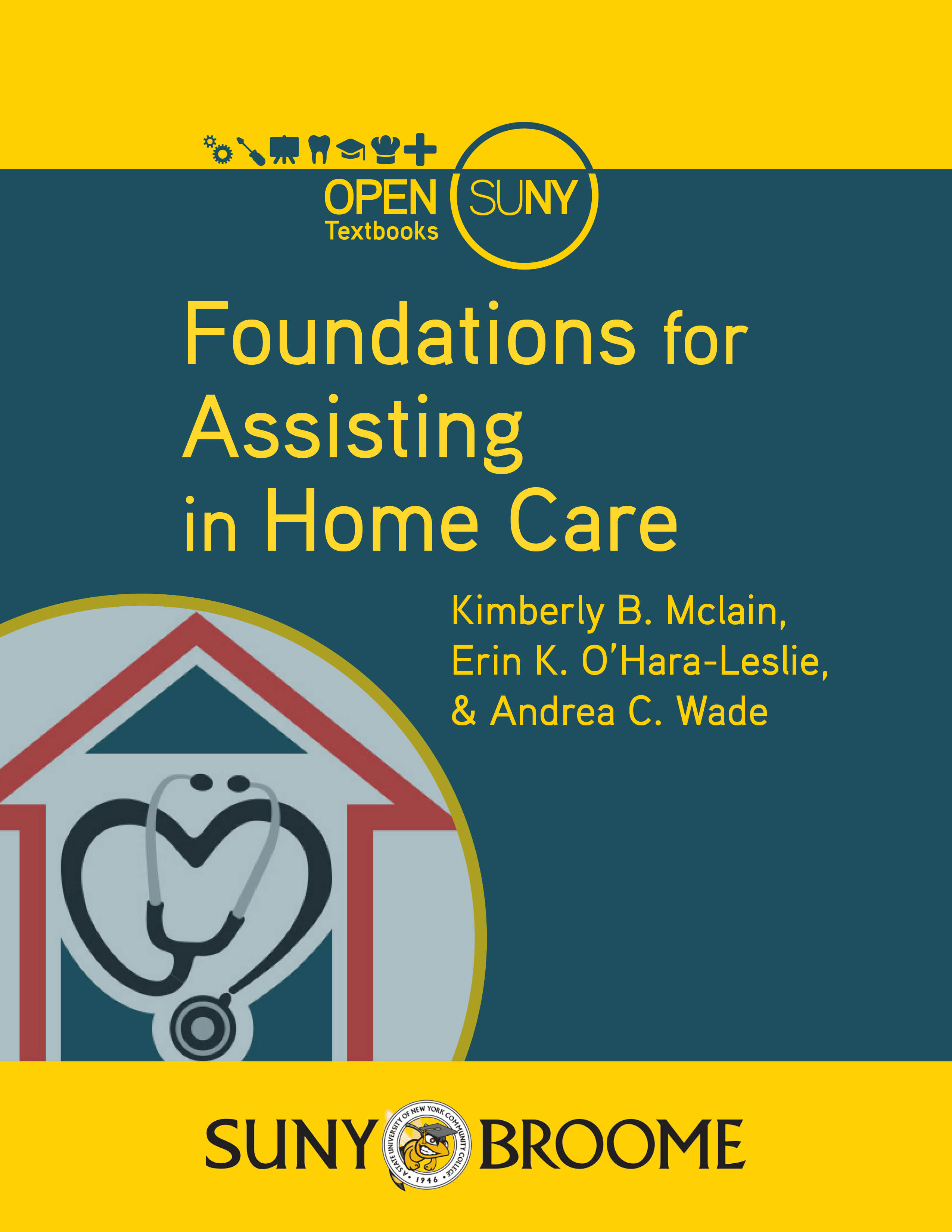 Book Description: Return to milneopentextbooks.org to download PDF and other versions of this text
Home health services are those which are provided within the comforts of the home setting to help people avoid hospitalization or skilled nursing facility placement, while they recover from illness, injury, or disability. Home health care may also be provided to people who suffer from chronic illnesses, those who have cognitive or physical disabilities or those who have been diagnosed with a terminal illness. This text provides the background necessary to begin working toward a career in the home care field as either a Home Health Aide or Personal Care Aide, which are two of the fastest growing occupations. This text is also suitable for those who are providing care to loved ones and who would like additional information to best provide that care, or for use within Home Health Aide and Personal Care Aide programs.
Consisting of 12 chapters, this text takes you from gaining an understanding of what home care is and the tasks involved, through better understanding the physical and psychological needs of people, along with the influence of culture on behaviors, values, and healthcare practices. This text provides an in-depth exploration of the physical and psychological changes which occur throughout the lifespan, with a special emphasis on understanding the unique needs of children, the elderly, and those with mental health issues, and developmental and physical disabilities. Chapters dedicated to the basics of nutrition, budgeting, and first aid provision are included. Specific methods for providing personal and homecare, along with videos to demonstrate tasks complete this text.
License:
Creative Commons Attribution
Book Information
Book Description
This course is intended as a self-study course for those interested in exploring a career as a Home Health Aide or Personal Care Aide. This Open Educational Resource (OER)  consists of 12 chapters which provide an overview of the responsibilities of the home health care worker. It includes the concepts and skills involved in working with patients with mental illness, developmental, and physical disabilities throughout the lifespan from infancy to death. Topics covered include nutrition, food planning, budgeting, safety, infection control, basic first aid skills, the use of proper body mechanics, and the provision of personal care. The text includes reading materials, interactive games, quizzes, and videos. This text will help introduce those interested in pursuing a career in the home health field to the basic knowledge and skill competencies required of a Home Health Aide and Personal Care Aide.
License
Foundations for Assisting in Home Care Copyright © 2016 by Kimberly B. McLain, Erin K. O'Hara-Leslie, Andrea C. Wade is licensed under a Creative Commons Attribution 4.0 International License, except where otherwise noted.
Subject
Medical profession